CryptoBackup™ Capsule Setup Instructions
YOU CAN STAMP ON BOTH SIDES!
Sample At 2mm thick, these custom made Stainless Steel Washers are designed to be stamped on BOTH sides.

Each Capsule comes with 12 Stainless Steel Washers (+ 6 extra).

You can stamp a full 24 Word Seed Phrase using the front & back side of the Washers. Don't forget to number them 1 through 24!

In the Photo you'll notice one Washer says "11" and the other says "B11".
This is for anyone who wants to store 2 SEPARATE private keys inside the same Capsule. To do this, we recommend adding the letter "B" to indicate which Seed Phrase in meant for the bottom side of the Washer.

Note: We realize that mistakes can happen which is why we always include 6 extra Stainless Steel Washers with each kit!

Bonus: The Capsule + Stamping kit also includes a Black Enamel Marker.
This is optional (not required) but looks really good when used!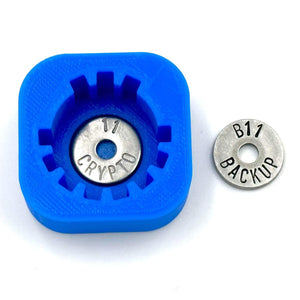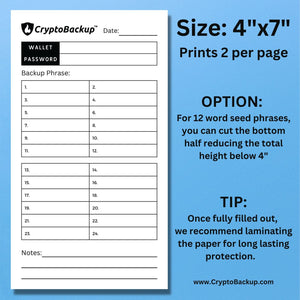 FREE Backup Phrase Template
We created a FREE Template that anyone can download & print to write down their 12 or 24 word seed phrase.