Setting up Bitpay for Businesses
INTRODUCTION
So you've now decided to start accepting cryptocurrency at your business? Or maybe you're halfway there but want to see just how many hoops you need to jump through to get things underway?
Luckily, setting up your business to accept crypto is a simple process and if you're tech savvy, can be performed in a matter of hours.
Whether you run an ecommerce site or a physical retail location, in this course you will learn how to set up your business to start accepting cryptocurrency right away.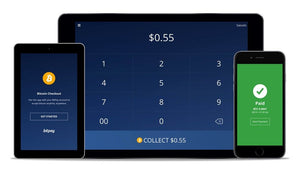 COMPLETE ONE-STOP SOLUTION: BITPAY
In this course, you will learn how to set up BitPay as your cryptocurrency payments processor.
Why BitPay?
BitPay is the largest bitcoin payment processor in the world.
The company is supported in 33 countries across 6 continents.
It's also the earliest bitcoin payments processor with a long standing history, founded in 2011. If you bought $100 worth of bitcoin then, it would be worth $3M today – that's how progressive and early BitPay was.
BitPay supports online and point-of-sale payments.
It's a stable, scalable and easy-to-deploy software solution.
COMPLETE ONE-STOP SOLUTION: BITPAY
BitPay has a high degree of compatibility with other platforms, such as:
Shopify, Magento, OpenCart, Ubercart, Drupal, WooCommerce, WordPress, Xcart, Ingenico, Soft Touch, DC POS, Intuit
BitPay is based in the U.S. & secured by strong regulatory scrutiny.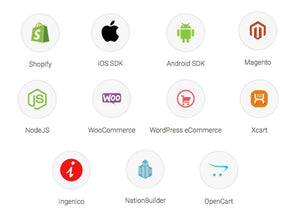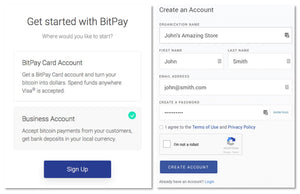 GETTING STARTED: OPENING AN ACCOUNT
The first step in setting up your business to accept payments whether online – through your eCommerce store, or at your retail location – using a POS terminal, is to create an account at https://BitPay.com
Select Business Account and click Sign Up.
On the next screen enter the particulars of your business:
Check "I agree to the Terms of Use and Privacy Policy" after you've reviewed and fully understand the terms presented.
Complete the reCAPTCHA validation.
Click Create Account.
You will now receive an email with a request for verification.
GETTING STARTED: SETTING UP YOUR ACCOUNT
In order to move forward with the account setup process, you will need to complete a few steps.
First confirm your email address by clicking on the Confirm Email button in the email confirmation message.
After you've confirmed your email, select the Get Verified option and enter the particulars of your business – BitPay's automated system will perform a validation step that should take no more than a couple of hours.
While awaiting verification, you may Add a Bank Account to which you would like to receive payments that are settled by BitPay.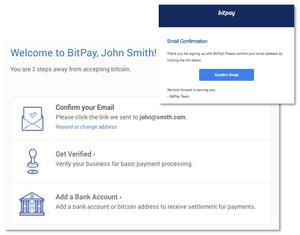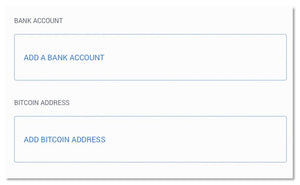 GETTING STARTED: HOW TO GET PAID
BitPay provides businesses with two important options for receiving payments made through it's platform:
Adding a Bank Account
This essentially turns BitPay into a bitcoin settlement platform – bitcoin's used to pay for products on your site will be converted to a local currency like USD, EUR or any number of 9 currencies.
Adding a Bitcoin Address
This option allows you to receive bitcoin or Bitcoin Cash payments directly to a wallet address.
You also have the option to split the payments as we will explore in the next screens.
GETTING STARTED: HOW TO GET PAID
Clicking Add a Bank Account brings you to the following screen.
Enter the particulars of your bank Account Details.
Your account screen may differ depending on your locality – the purpose is to add a bank account so fiat settlements can occur.
Click Save.
Bank accounts will require verification through deposits, this could take up to 3 days.
Please make sure to follow the verification steps to confirm you are the account holder and that BitPay has access to deposit funds into your account.
Fiat funds received through the purchase of products in Bitcoin are deposited via ACH and take 2 business days to settle.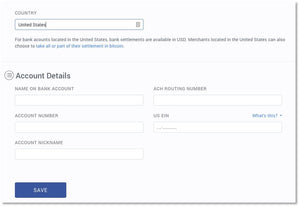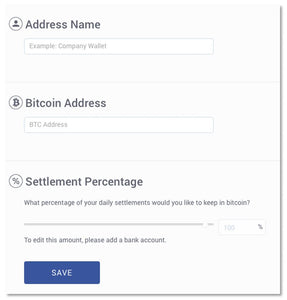 GETTING STARTED: HOW TO GET PAID
Clicking Add Bitcoin Address brings you to the following screen.
Enter the Address Name, which is simply a label for future reference.
Enter your Bitcoin Address – this is your wallet address where you would receive bitcoin. This might be an address generated by a software or hardware wallet, or perhaps even an address provided by your cryptocurrency exchange.
We recommend using a hardware wallet like Trezor or Ledger, or an encrypted desktop wallet like Exodus.io
Settlement Percentage – if you have a Bank Account already set up, then you can decide how much you want to be sold for cash, and how much of the remaining you want to leave in bitcoin.
Click Save to complete your changes.
SETTING UP: ONLINE PAYMENTS
Now that you've set up your accounts and wallets to accept and settle payments in bitcoin, we're ready to start configuring your website UI to enable payments in bitcoin.
On your BitPay dashboard, select the Payment Buttons option.
Payment Buttons creates an actual button that you will place on your website to accept bitcoin.
An example might be to place it on a product page, where you know what specific product you're selling, and how much it will cost.
For ecommerce sites selling multiple products with a shopping cart implementation, more advanced integration will be required. Luckily BitPay provides integration for a number of popular ecommerce technologies. For additional information, please visit https://BitPay.com/integrations/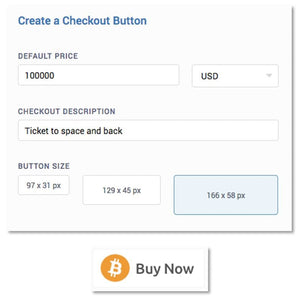 SETTING UP: ONLINE PAYMENTS
After clicking on the Payment Buttons option you will be directed to a configuration page.
Begin by inputting the Default Price, Local Currency and Checkout Description.
These should match the pricing and description for the specific product.
You may also select the Button Size that is generated by BitPay.
The generated button is depicted here for reference – this can be placed on your product page to enable instant payment.
SETTING UP: ONLINE PAYMENTS
Continue setting up the Payment Button by providing BitPay the following:
Server IPN - this is an optional feature, but is useful for eCommerce sites that are able to listen for successful payments (or errors); you can skip this field if you are okay manually tracking payments.
Browser Redirect – after payment is successfully completed, you can instruct BitPay to redirect the user back to a page on your site, for example a payment confirmation page, if nothing is inputted, the user will remain on the BitPay confirmation screen.
Send Email Notifications To – allows you to receive an email notification upon completion of payment.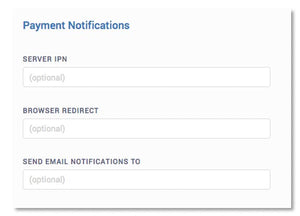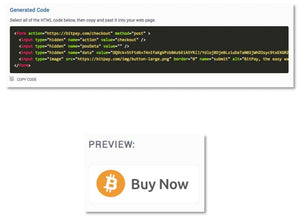 SETTING UP: ONLINE PAYMENTS
After inputting all information from the previous slides, BitPay will update the HTML code in the Generated Code preview window.
You can click the Copy Code button or manually copy & paste the HTML code and paste it onto the relevant product pages HTML file.
You will need a basic understanding of website administration to do this – you can also provide this code to your web developer to have them copy & paste it onto the relevant product page.
Once you've finalized these steps, you can generate a preview button.
Now click the Buy Now button to view the sample output.
SETTING UP: ONLINE PAYMENTS
BitPay will generate the sample payment user interface (UI) as shown here.
The Product, Description and Local Currency Amount should all match the inputs from the previous configuration screen.
The User will have the option to pay in bitcoin or Bitcoin Cash.
Once the User selects an option, the BitPay UI will display a QR code (A), the BTC or BCH amount and countdown timer – if the user is viewing the invoice on a mobile device and has BitPay installed, they will have the option to Open in Wallet (C) to submit instantly.
The User can submit payment by scanning the QR code with a BIP-70 compatible mobile wallet.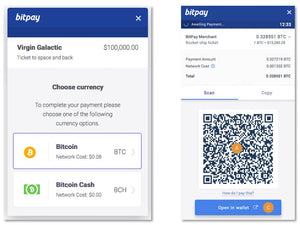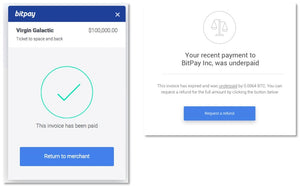 SETTING UP: ONLINE PAYMENTS
Once the proper amount of funds have been received the UI will change to reflect confirmation of payment.
If enough payment is not deposited then the UI will alert the user of the payment shortfall and offer a refund less any transaction and miner fees.
The user may optionally contact you directly where the shortfall can be settled directly, if so desired.
This concludes the section on how to accept Bitcoin payments online.
Please note that there are many other online integrated solutions available through BitPay, more information is available at: https://BitPay.com/integrations/
SETTING UP: IN PERSON PAYMENTS
This part of the tutorial is designed for business owners and managers that are looking to accept bitcoin payments at a physical location such as a retail store.
We will be providing instructions on setting up BitPay as the payment processor – as mentioned previously, BitPay is the largest bitcoin payment processor in the world.
For Point-of-sale (POS) payments made through BitPay, your customers will need a BIP-70 compatible mobile wallet to properly scan and interpret the QR code presented at the terminal.
The first step in setting up BitPay at your physical location is to navigate to the Apple App Store or Google Play Store and download the BitPay Checkout app. Please note there are two BitPay apps available, so make sure you're looking at the right one.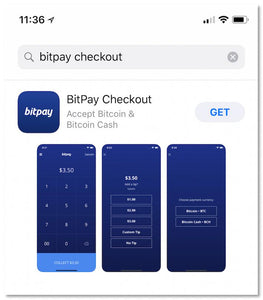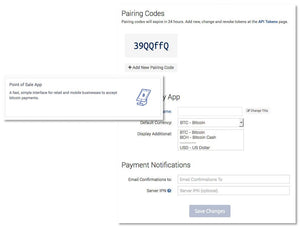 SETTING UP: IN PERSON PAYMENTS
Navigate to your BitPay account dashboard.
Select Payment Tools from the left navigation bar.
Locate and click the Point of Sale App button.
Under Pairing Codes, click Add New Pairing Code – a new 7-digit code should be generated, you will need this to successfully pair the downloaded app, please keep this screen open while you set up your mobile app in the next slide.
Your Merchant Name should populate, if you have more than one, you may select the one you wish to pair the device to.
Display Additional - You can configure that app to accept other forms of currency including BCH.
If your POS supports IPN, you may enter it, you may also optionally add an email to receive notifications of payments.
SETTING UP: IN PERSON PAYMENTS
Open the BitPay Checkout App on your mobile device.
Begin the configuration process by entering a Device Name – this will be helpful if you have multiple POS points in your location.
Enter in the 7-digital Pairing Code generated from the web dashboard – make sure you are within the 24-hour window of the time the code was generated or the pairing process will fail and you will have to generate a new code.
The pairing code properly associates the mobile app and device with your account and is the critical step to link the two together.
Once pairing has been successfully completed, you will receive a green Welcome screen.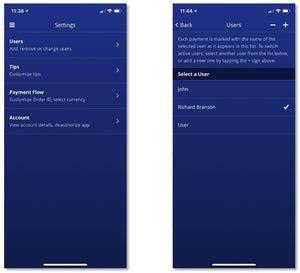 SETTING UP: IN PERSON PAYMENTS
Tap the hamburger menu icon at the upper left to access the Settings page.
We will begin by configuring the Users functionality.
You can add multiple users in the app, for example if you have several employees managing the POS terminal and wish to differentiate between individuals who generated the sale.
Tap the + icon to add new users or – to remove users.
Select the appropriate user for the current shift – you must manually select and change the user as needed.
Select the Back button once you've made your selections to return to the Settings menu.
SETTING UP: IN PERSON PAYMENTS
From the Settings page, tap the Tips menu navigation selection.
This feature allows you to configure how you receive tips.
If you do not wish to collect tips, turn the toggle switch off on the Collect Tips selection.
Flat Tips – rounds to the nearest whole dollar for payments less than $10 instead of using the exact percentage based amount.
Tip Amounts – allows you to adjust the percentages that display on the three selection options available to the user.
Custom Tip Amounts – you can also allow your customer to manually add their own tip amount.
Select the Back button once you've made your selections to return to the Settings menu.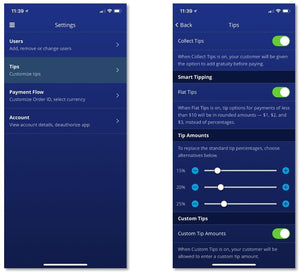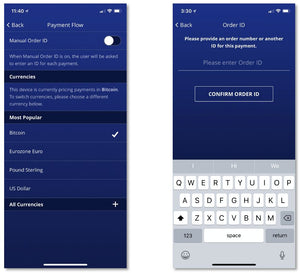 SETTING UP: IN PERSON PAYMENTS
From the Settings page, tap the Payments Flow menu navigation selection.
This feature allows you to select which payment currency is displayed for the cashier to input.
We recommend selecting your local currency, for example US Dollar – the BitPay checkout will automatically convert this to the appropriate amount of BTC or BCH during payment.
Manual Order ID – this allows you to enter an Order ID for each payment, this might be helpful in pairing the BitPay transaction with an order that was generated from a separate POS system – this is primarily for accounting and tracking, but is not required.
Select the Back button once you've made your selections to return to the Settings menu.
SETTING UP: IN PERSON PAYMENTS
Once you've configured the app, you're ready to start accepting payments!
To begin, return to the main navigation menu and tap Checkout.
This will bring up the checkout flow which will be used by your cashier each time a patron indicates they wish to pay using bitcoin or Bitcoin Cash.
Begin by inputting the currency amount you wish to bill to the patron – the currency type will vary depending on what was configured in the previous screen.
Note that the User name is indicated in the top right – this should match the individual ringing up the bill if you are tracking this, otherwise the default is "User".
Tap Collect to move to the next screen.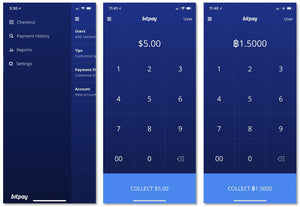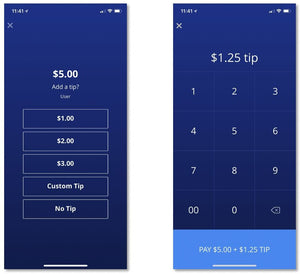 SETTING UP: IN PERSON PAYMENTS
At this point you will hand over the device to the purchaser.
If you have tips enabled, the selection amounts you've entered will display.
Note that since this purchase is for under $10, the flat tips are being displayed.
We've also allowed Custom Tips to be inputted so this is displayed as well.
The user can input a custom tip which will show the total amount and the tip amount in the light blue pay button.
SETTING UP: IN PERSON PAYMENTS
Once the user taps the pay button, the BitPay Checkout app will generate a BIP70 QR code.
Prompt the user to pay using a BIP70 compatible wallet software from their mobile device.
BitPay requires BIP70 protocol support – if the user is unable to pay using the display QR code, the transaction cannot be completed.
The user has approximately 15 minutes to execute the payment – the cashier may exit and cancel the transaction by tapping the X button at the upper left if so desired.
Once payment is successfully received, the UI on the BitPay Checkout app will show a green Paid screen.
Tap Next Payment to begin another payment.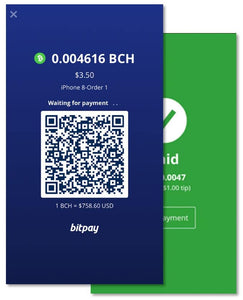 SETTING UP: IN PERSON PAYMENTS
For further information on accepting payments with BitPay, go to: https://BitPay.com/docs/Payment History – allows you to view all previous transactions on the device.
Reports – allows you to select a date range to generate reports of payment activity, the app will generate a list of sales found for the selected duration.
ALL DONE!
You've just learned how to accept cryptocurrency for your business!
By now you should know that it's just as easy to accept as credit card and cash, perhaps even easier.
There are a number of other payment providers besides BitPay and we do encourage you to explore and evaluate other payment solutions.
As mentioned in previous slides, BitPay allows for more than 40 integration pathways for businesses that need more flexibility and customization.
By integrating a cryptocurrency compatible payment solution you are helping to support and create awareness for the fast growing cryptocurrency community.
Welcome to the cryptocurrency revolution!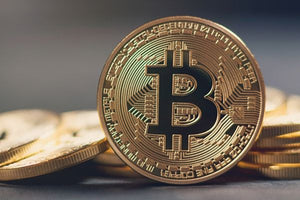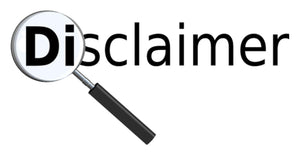 EDUCATIONAL PURPOSES ONLY
This information is intended for educational purposes only and should not be construed as investment advice. 
As with all financial decisions you should contact your licensed financial advisor before investing in any financial instrument.