What is the CryptoBackup™ Capsule?
Cold storage you can trust!
With this backup for your crypto wallet, you can be sure that your precious data - and cryptocurrency will remain protected. With every CryptoBackup™ capsule, you get:
✔ Complete security by helping you keep your keys offline. 
✔ Absolute durability with a capsule made of high-grade stainless steel. It's Shockproof, Waterproof, Hackerproof & Fireproof up to 1400C / 2500F.
✔  Full compatibility with over 99% of cryptocurrency wallets on the market.
This is the kind of protection that won't ever let you down. Easy to use and impervious to harm, this is a simple yet elegant solution to defending your cryptocurrency wallet against all threats and mishaps, both online and offline. Because you deserve to have your peace of mind - and all your cryptocurrency - completely intact.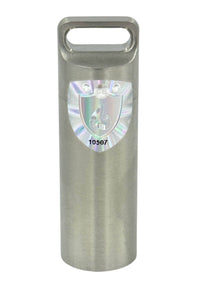 The CryptoBackup™ Capsule
The CryptoBackup™ Capsule is both hacker-proof and safe from natural disasters.

Comes with 12 Stainless Steel Washers inside the Capsule. We also include 6 extra washers just in case you make any mistakes.
Stamp both sides of the Stainless Steel Washers to protect your 24-word Recovery Phrase or use both sides to backup two seperate 12-word Recovery Phrases inside of one Capsule!
Watch the CryptoBackup™ Capsule Video
YOU CAN STAMP BOTH SIDES!
At 2mm thick, these custom made Stainless Steel Washers are designed to be stamped on BOTH sides.

Each Capsule comes with 12 Stainless Steel Washers (+ 6 extra).

You can stamp a full 24 Word Seed Phrase using the front & back side of the Washers. Don't forget to number them 1 through 24!

In the Photo you'll notice one Washer says "11" and the other says "B11".
This is for anyone who wants to store 2 SEPARATE private keys inside the same Capsule. To do this, we recommend adding the letter "B" to indicate which Seed Phrase in meant for the bottom side of the Washer.

Note: We realize that mistakes can happen which is why we always include 6 extra Stainless Steel Washers with each kit!

Bonus: The Capsule + Stamping kit also includes a Black Enamel Marker.
This is optional (not required) but looks really good when used!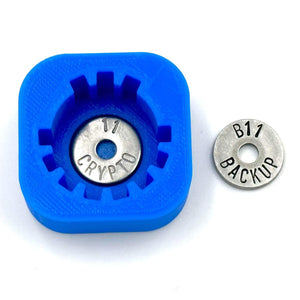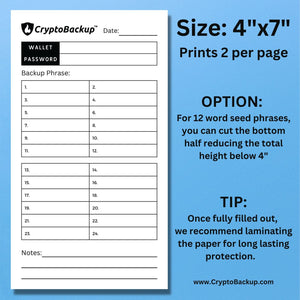 FREE Backup Phrase Template
We created a FREE Template that anyone can download & print to write down their 12 or 24 word seed phrase.
USA Shipping
FREE SHIPPING in the USA for all orders above $75. Delivery on average is 3-6 business days. 
Global Shipping
International shipping costs & time will vary.
30 Day Money Back Guarantee