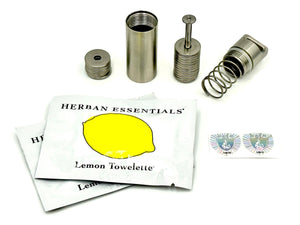 Order Extra Capsules
The CryptoBackup™ Capsule is both hacker-proof and safe from natural disasters. Comes with 12 Stainless Steel Washers inside the Capsule + 6 spare. 
Compatible with most secret sharing and key generation algorithms. Stamp both sides to protect your 24-word Recovery Phrase or use both sides to backup two 12-word Recovery Phrases inside of one capsule.
Hackerproof, Waterproof & Fireproof up to 1400C / 2500F
Brand: CryptoBackup™

PACKAGE INCLUDES
1) 18 x Stainless Steel Washers (2mm thick, 12 Washers inside of Capsule + 6 extra)
2) 1 x Stainless Steel Bolt & Nut
3) 1 x Stainless Steel Spring
4) 1 x Stainless Steel Capsule, approx. 18mm x 63mm (0.7" x 2.48")
5) 2 x Tamper Proof Stickers
6) 2 x Lemon Wipes

NOTE: The Capsule, Washers & Spring is made from 304 Stainless Steel.

Shipping + Returns

Free shipping in the USA for all orders above $75.
Delivery on average is 3-6 business days within the USA.
We also ship globally - International shipping time & costs will vary.
30 Day Money Back Guarantee - Refund Policy